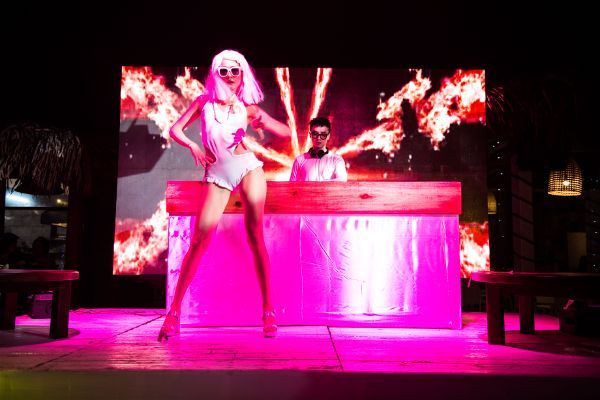 Get Ready for our Epic New Year's Eve Party
Are you counting down the days to 2020 yet? Our epic New Year's Eve dinner and party vibe on 31st December is going to be the place to be for counting down the minutes!
Get ready for all the awesome-ness that makes a Shore Club party so great — live music, 2 epic DJs, party games, food stations from only 80K, incredible drink specials and, of course, you — the community! We're going B-I-G with this New Year's Eve party. Now, all we need is you.
New Year's Eve – Tuesday, 31 December
7 pm – LATE
Party well into the next morning as DJ Candy K and DJ Dark keep you going all night long!
NEW YEAR'S EVE PARTY HIGHLIGHTS
**FREE ENTRY, ALL ARE WELCOME**
**FREE WELCOME DRINK WITH BOOKING**
MUSIC MOVES THE SOUL
As always, we've got the beats to get you out of your seat. Don't miss our New Year's Eve line-up…
LIVE MUSIC
7 pm – 9 pm
DJ DANCE PARTY
DJ Dark & DJ Candy K
9 pm – Late
FEED ME, I'M HUNGRY…
We've got two menu choices, in addition to our standard a la carte menu, this New Year's Eve.
Get your grub on as you move between our different Party Food Stations or sit down and relax with our Holiday 2019 Special Menu.
Food Stations
Check out our different starters, mains and desserts.  Vegan and vegetarian options available.
All dishes only 80K / dish.
Holiday 2019 Special Dinner Menu
Treat yourself to one of our chef's signature creations this New Year's Eve!
VIP Food Packages
We've put together 2 epic VIP food packages for guests who want to treat themselves to a delicious New Year's Eve dinner! Check out the options and book early to secure your space.
LET'S GET A DRINK…
For New Year's Eve, we're offering 20% off all champagne, sparkling wine and MCC to get the party started right!
We've also got some epic drink specials and some awesome VIP Drink Packages designed to save you some of that good 'ol VND.
FREE WELCOME DRINK
If you've been to a party at Shore Club before, you know we like to do it right! And, the best way is to greet our guests with a very warm welcome and a seriously sweet welcome drink! As always, book your table in advance and get a free welcome drink on arrival.
CHAMPAGNE TOAST AT MIDNIGHT
You're not going to want to miss the countdown to midnight at Shore Club! And, you definitely won't want to miss our complimentary Midnight Champagne Toast. Minutes to midnight, get ready as our team pops some champagne bottles and passes them out to all guests! Grab your sparklers, your midnight kiss and your bubbles to ring in the New Year right.
HECK YEAH, LET'S PARTY!
We're going all out for New Year's Eve! And, we can't wait to show you what we've put together. Here are some of the highlights…
Fire Flair Bartenders
Hip Hop Dance Off
Sexy New Year's Eve Showgirls
Drinking Games
Lucky Draw Raffle
Midnight Champagne Toast
And more!
BOOKINGS STRONGLY RECOMMENDED
To make your booking, simply email us on booking@shoreclubvietnam.com or phone us on 090 589 2121 (English) or 070 460 9914 (Vietnamese).
Or visit our website at www.shoreclubvietnam.com.
With your booking, receive a complimentary welcome drink and some tasty treats on arrival. You'll also get an entry into our Lucky Draw contest. Woo-hoo!
VIP FOOD & DRINK PACKAGES
We've put together some seriously sweet deals for our epic New Year's Eve party! Since we believe everyone is a VIP at Shore Club, these packages don't come with special seating or other froo-froo perks…they're just designed to save you some cash!
See our Holiday VIP Packages.
LET'S RING IN 2020 RIGHT…
It's time to ring in the New Year and we know you want to be surrounded by friends, family and an overwhelming sense of love! Come celebrate at your home away from home with locals, expats and travelers all looking to feel the Shore Club love…
FOR MORE DETAILS OR TO RESERVE YOUR TABLE, contact booking@shoreclubvietnam.com  or phone us on 090 589 2121 (English) or 070 460 9914 (Vietnamese).
Tables are available on a reservation basis or first-come, first-served on the evening. We suggest you book early to avoid disappointment.