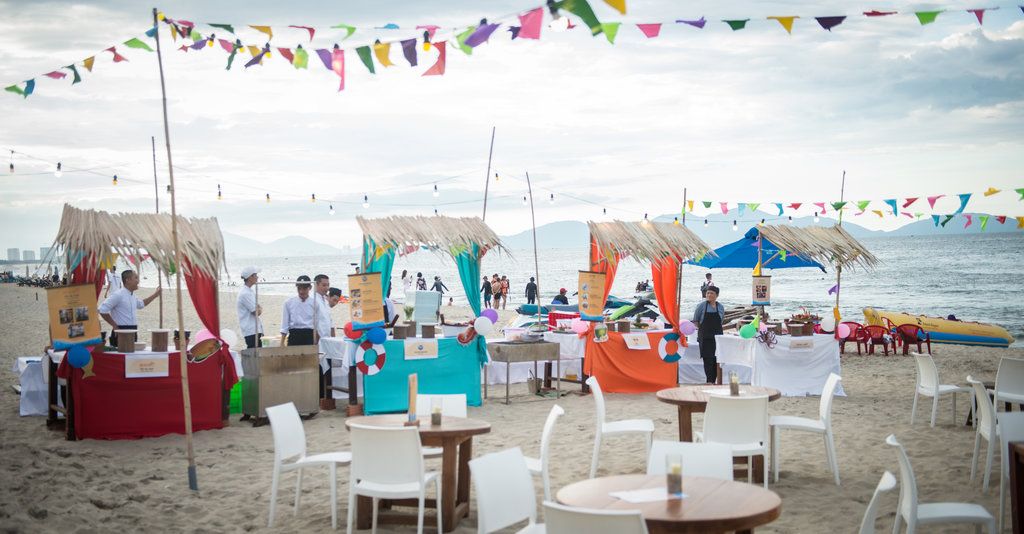 Alo Summer Beach Party 2021
Vietnamese Below 
It's time for our first summer Beach Party
Get set to kick off summer at the hottest 2-day beach party yet…
Alo, Summer! Beach Party
Date, Time & Location
 Friday, 30 April &
 Saturday, 1 May
 4 pm – Late
Far Left End, An Bang Beach
EAT
We're bringing together some of our favorite restaurants from around Central Vietnam.
 20 Food Stalls
 5 Vegan Stalls
 4 Dessert Stalls
 All Food only 70k /dish
SHOP
 10 Shops
MUSIC TO MOVE YOUR BODY & SOUL
 4 Bands
 3 DJs
BEACH PARTY
Are you ready for 2 Nights of Fun at our Alo, Summer Beach Party?
Get Ready to Party…
 Fire Flair Bartenders
 Hip Hop Dance Show
Traditional Dance & Instrumental Performances
Fire Spinning & Dance
Special Guest Performances
 Face Painting
 Art Installation & Workshops
Kids Activities
 Two Days of Fun in the Sun for the Whole Family 
Free Entry
Family-Friendly, All are Welcome
CHARITY DONATIONS
As always, we will host a charity donation table with our partners from CHIA – Children's Hope in Action.
We encourgage you to stop by CHIA's booth to learn more about them, the wonderful work they do here in Central Vietnam and to meet the team. If so inclined, they'll be there to accept your donation and share more about their work with you.
Free Water Refilling Stations
Bring your water bottle and refill for free!
No plastic / Low plastic event. Keep the beach clean and plastic free!
Community Art Installations…to be confirmed!
Save the Date and Stay Tuned for more details!
##########
LỄ HỘI BIỂN AN BÀNG
"CHÀO MÙA HÈ"
Khởi động mùa hè thật hoành tráng với đêm tiệc trên bãi biển diễn ra trong hai ngày…
 Thứ Sáu ngày 30/4
 Thứ Bảy ngày 1/5
 Từ 16:00 đến Khuya
 20 Gian hàng Ẩm Thực
 5 Gian hàng thuần Chay
 4 Quầy tráng miệng
 Món ăn chỉ có 70k/phần
 10 Gian hàng mua sắm
 4 ban nhạc Việt Nam và ngoại quốc
 4 DJ
 Tận hưởng 2 đêm tiệc thật vui vẻ
Và sẵn sàn chào đón
 Biểu diễn bar nghệ thuật
 Nhảy hiphop
 Biểu diễn nhạc cụ và Các nhóm nhảy truyền thống
 Múa lửa
Những màng biểu diễn đặc biệt từ ca sỹ khách mời
 Vẽ mặt nghệ thuật
 Hội thảo và tác phẩm sắp đặt nghệ thuật
 Các hoạt động dành cho trẻ em
 Tận hưởng những giây phút thật vui vẻ dưới ánh mặt trời cùng bạn bè và gia đình trong 2 ngày lễ 
Miễn phí vào cửa
Tất cả khách hàng đều được chào đón
Như mọi khi chúng tôi sẽ tổ chức và sắp xếp 1 bàn để khách hàng có thể quyên góp từ thiện
Tất cả các quỹ từ thiện sẽ được công bố sớm…
Mễn phí nước lọc tại quầy
Hãy đem theo bình để đựng nước…
Không rác thải nhựa/ giảm thiểu rác thải nhựa trong buổi tiệc/ hãy giữ bãi biển sạch sẽ và không rác thải nhựa
Tác phẩm sắp đặt nghệ thuật sẽ được công bố…
Hãy theo dõi chúng tôi để cập nhập thêm thông tin bạn nhé!