Taste the World Food & Music Fest 2023
Are you ready for the biggest party of the summer on An Bang Beach? Join us for this year's Taste the World Food & Music Fest this Saturday, 29 July at Shore Club!
TASTE THE WORLD
Food – Music – Art – Shops
 Saturday, 29th July 2023
3 pm – Late
 Shore Club, An Bang Beach
FREE ENTRY & FAMILY-FRIENDLY
Join us for a chance to taste different cuisines from around the world at this epic food & music mini festival hosted by Shore Club!
 FOOD
Get ready to taste flavours from around the globe…
FOOD VENDORS INCLUDE…
*Cobb Restaurant
*The Hill Station
*Co Mai
*German Deli
*Braai Pit
*Shore Club
*The DeckHouse
*Coco Casa
*Wafel – Belgian Waffles
*Em's Bakery
*Lagom
And more to be announced!
 MUSIC
You know we love a good party at Shore Club and tonight is guaranteed to be no exception! We haven't confirmed our music line-up just yet but here's the plan…
4-5 pm
Danang-based Musical Comedy Duo
5-6:30 pm
Couple Tunes
6:30 pm – 7 pm
The Return of Musical Comedy
7-9 pm
QUENTIN TARANTOTY
9-11 pm
BIBI LABU
11 pm onwards…let's see if the night is tempting and the party is still going strong as special guest DJ Bodhi Nam stands by to take over and keep the party going!
This year, we're pulling out all the stops and putting the DJ on the upper deck to make space for you to get down and boogie the night away under the stars.
 FUN ACTIVITIES FOR EVERYONE
-Face Painting
-Wooden Sculpture Painting
-Palm Fan Painting
-Adult Drinking Games
-And More!
️ ART & SHOPS
As always, we're inviting local artists, shops and vendors to come join us for the event!
*Hop Handi
*OCOP House
*Thy Kin Handmade
*Natural Cosmetics
*Soulcraft
*Rooted Souls
*Aethereal
…more to come!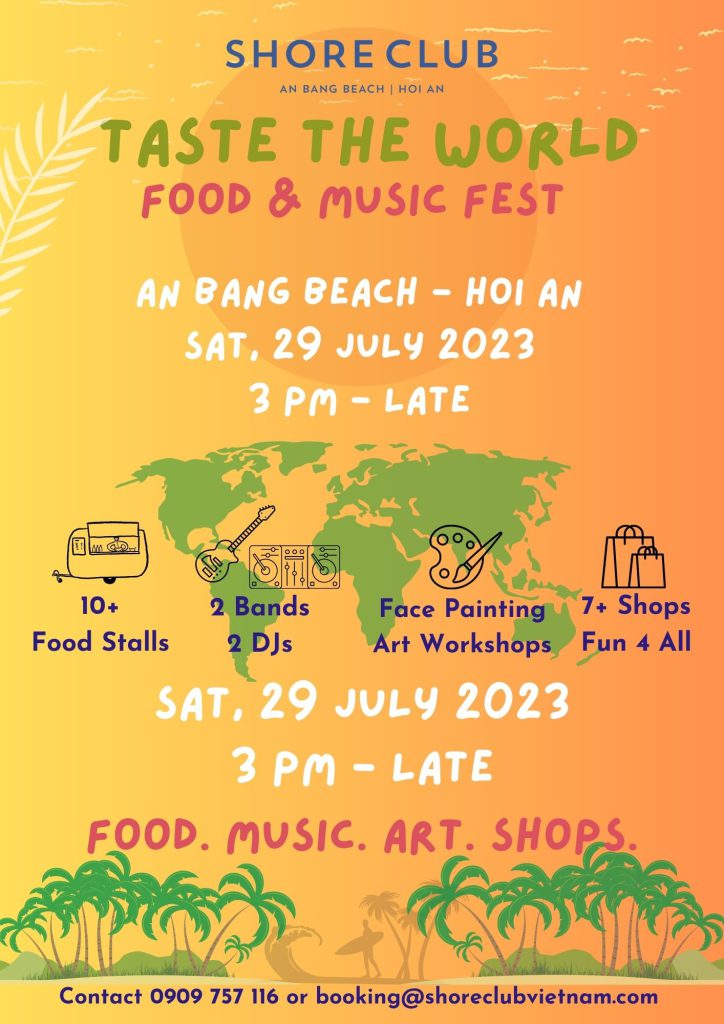 \tiếng Việt\
 Đại tiệc ẩm thực "ĂN CẢ THẾ GIỚI"
Ẩm thực – Âm nhạc – Nghệ thuật – Mua sắm
Thứ Bảy, ngày 29 tháng 7 năm 2023
3 giờ chiều – khuya
Shore Club, biển An Bàng
VÀO CỬA MIỄN PHÍ & PHÙ HỢP GIA ĐÌNH
Hãy tham gia cùng chúng tôi để có cơ hội nếm thử các món ăn khác nhau từ khắp nơi trên thế giới tại lễ hội mini âm nhạc và ẩm thực hoành tráng do Shore Club tổ chức!
 ẨM THỰC
Hãy sẵn sàng để thưởng thức hương vị từ khắp nơi trên thế giới…
Ấn Độ – Đức – Thái – Bỉ – Ý – Mexico – Hy Lạp – Mỹ BBQ – Thuần chay – và nhiều hơn thế nữa!
Bạn có phải là nhà hàng với ẩm thực độc đáo?
Hãy liên hệ với chúng tôi ngay nhé — chúng tôi đang tìm kiếm 10-12 quầy hàng thực phẩm từ khắp nơi trên thế giới để cùng tạo ra một bữa tiệc " đa sắc màu" cho những thực khách sành ăn nhé!
️
 ÂM NHẠC
Bạn biết đấy, chúng tôi yêu thích một bữa tiệc tuyệt vời tại Shore Club và tối đó chắc chắn sẽ không có ngoại lệ! Chúng tôi vẫn chưa xác nhận đội hình âm nhạc của mình nhưng đây là kế hoạch…
15:00 – 17:30
Band #1 (sẽ được công bố)
17:30-20:00
Nhóm #2 (sẽ được công bố)
20h – Muộn
DJ (sẽ được công bố)
Năm nay, chúng tôi sẽ mở rộng tất cả các điểm dừng và DJ sẽ biểu diễn ở tầng cao để tạo không gian cho bạn nhảy và "hò hét" cùng chúng tôi suốt đêm dưới những vì sao.
️
 NGHỆ THUẬT & CỬA HÀNG
Như mọi khi, chúng tôi mời các nghệ sĩ, cửa hàng và nhà cung cấp sản phẩm địa phương đến tham gia cùng chúng tôi cho sự kiện này!
Nếu bạn là một nghệ sĩ và muốn trưng bày tác phẩm của mình…
Nếu bạn là một cửa hàng hoặc nhà cung cấp và muốn có một gian hàng tại sự kiện…
Nếu bạn có ý tưởng khác về cách bạn muốn tham gia…
HÃY LIÊN HỆ VỚI CHÚNG TÔI! 
Chúng tôi đang cùng nhau tổ chức bữa tiệc mùa hè tuyệt vời nhất trên Bãi biển An Bàng và rất muốn bạn tham gia vào niềm vui và lễ hội!
 HÃY THEO DÕI FANPAGE ĐỂ BIẾT THÊM CHI TIẾT….