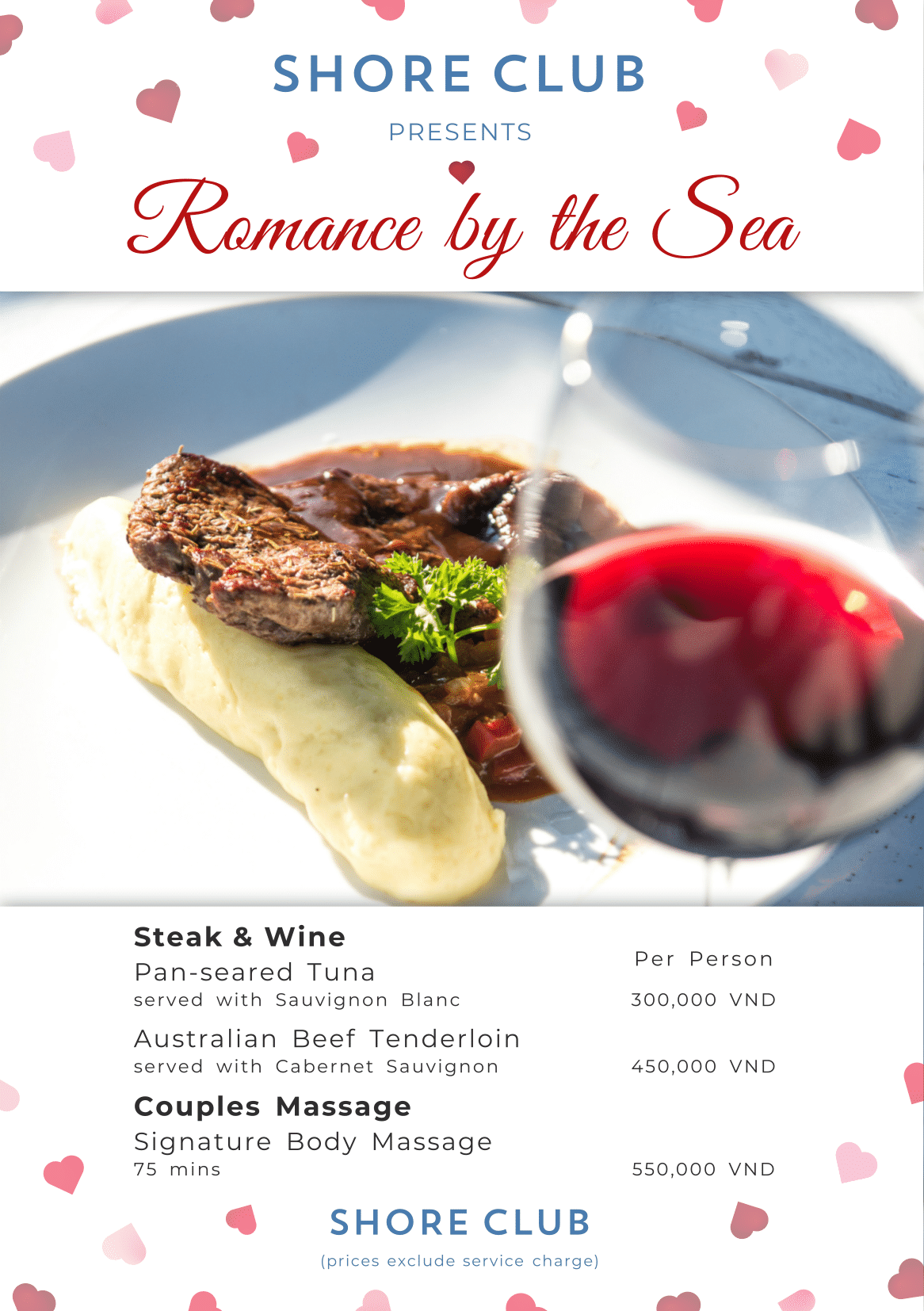 Valentine's Day at Shore Club
Romance by the Sea

Come indulge in our delicious Steak & Wine Valentine's Day Date Night while listening to live music and the soothing, romantic sounds of the sea.
What's more romantic than spending a day relaxing on our private stretch of sand at the far end of An Bang Beach? Add a couples' massage from Luna Beach Spa, a stunning sunset and some live music and you've got Valentine's Day.  Let us light the candles on the table and allow our executive chef to prepare one of our incredible sushi boats or indulge in our fresh, delicious tuna steak or our signature Australian beef tenderloin paired perfectly with a glass of our house red or white.
Valentine's Day Treat
Add to the romance this Valentine's Day with your private, couples-only spa booking at Luna Beach Spa. Enjoy our signature 75 min couples' massage and experience total relaxation at Shore Club.
Looking for something lighter?
A pizza, a bottle of bubbles and one of our VIP Cabanas might be perfect for you and your Valentine.
Sushi on the brain? Come to the only spot in An Bang for the ultimate sushi experience. Our seasoned, 30-year veteran Japanese sushi chef imports all fish directly from Japan. Come to savour the flavour.
Reserve Your Space
Get cozy with one of our private cabanas or day beds and plan to spend the afternoon into evening at Shore.
THE PERFECT VALENTINE'S DAY DATE?
We've laid out a sample itinerary to help you out. We think it could just be perfect. You decide.
2 pm – Light lunch and Enjoy the Sea
4 pm – Couples Massage
5:30 pm – Dip in the Pool
6 pm – Live Music Begins
7 pm – Dinner
8:15 pm – After Dinner Drink?
We're open until 10 pm so you can 'Say Goodnight' anytime you'd like.
Bookings strongly encouraged.
Cabanas, day beds and beach side lounges are limited.