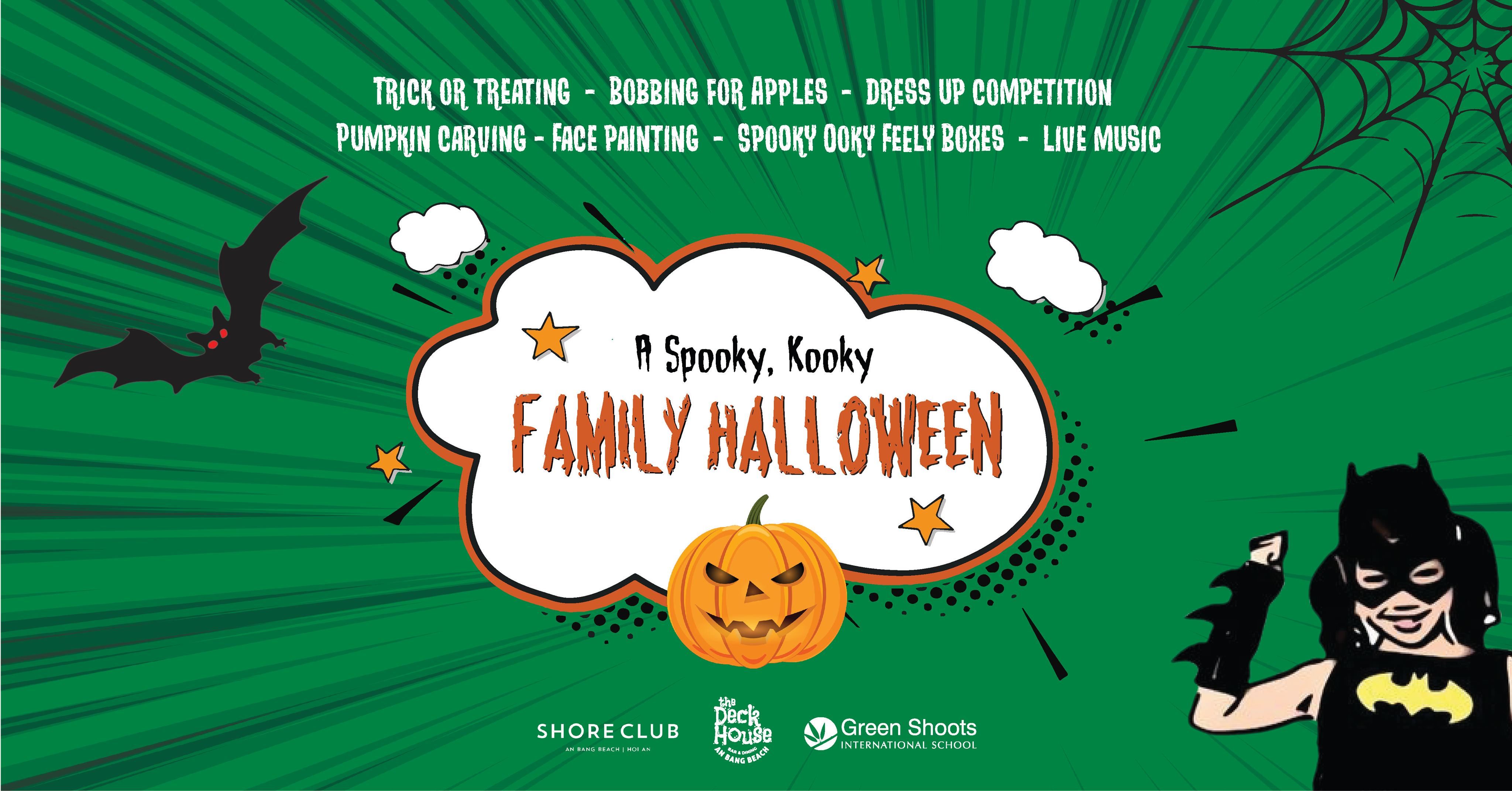 A Spooky, Kooky Family Halloween at Shore Club
This Halloween, we've got fun for the whole family at Shore Club! Grab your little goblins and ghouls and make your way over to Shore Club early this Halloween night for something spooky, kooky and filled with family-fun.
FREE ENTRY + FAMILY-FRIENDLY FUN
As always, we've designed the night with you in mind! There is free entry ALL NIGHT LONG…
Starting from 5 pm – 7:30 pm, we've got games and activities to excite the little ones like Trick or Treating our Haunted Cabanas, Bobbing for Apples, Face Painting, Pumpkin Decorating and more!
LIVE MUSIC
For the grown ups, we've got the sensational sounds of the Moon Chasers performing some haunted Halloween hits…in costume, of course! Kicking off at 4:30 pm so we'll be rockin' and rollin' for your arrival.
FREE WELCOME DRINK WITH BOOKING
Let us know you're coming to party and we'll set aside your table — along with a complimentary welcome drink for guests of all ages! Young or old, you're in for a treat with our 'Bloody Eyeball' cocktail or the virgin version.
To book, email us on booking@shoreclubvietnam.com. You can also book online or phone us on 090 589 2121 (English) or 070 460 9914 (Vietnamese) to make your reservation.
COSTUME CONTEST
Have you got your costume planned yet? Consider a team or family costume this year and you'll be in the running for our Team Costume Contest.
We're inviting Moms and Dads, Aunts and Uncles and Brothers and Sisters to get in on the fun, too!  Come in costume as a "Team" or "Group" like Ketchup and Mustard, Batman and Robin or even get the whole family in on the fun as The Incredibles.
LET'S GET THIS PARTY STARTED
After, the real party monsters of Halloween come out to play as 2 epic, international DJs descend on Shore Club to turn our family-fun afternoon into a ghoulish graveyard of fright for the night! Are you down to be a bit ghoulish? Then our Haunted Halloween Monster Ball is just what you need…
BUT FIRST…it's all about our…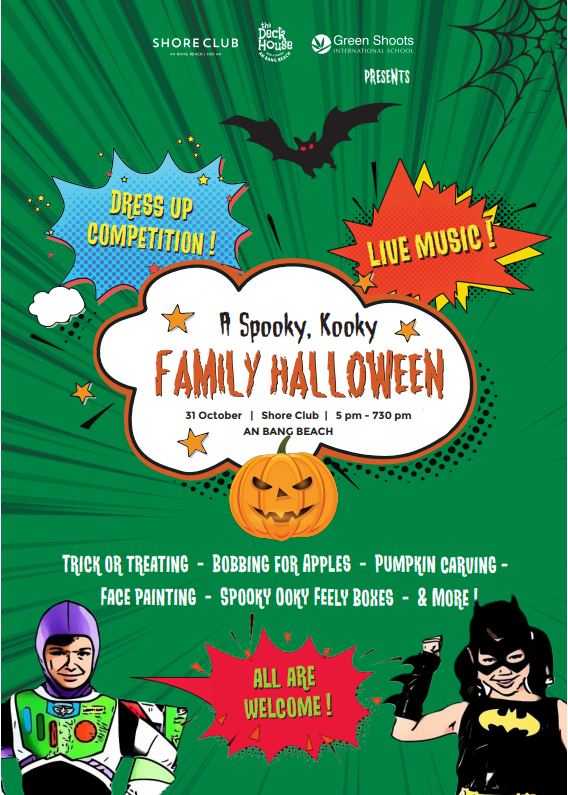 A SPOOKY, KOOKY FAMILY HALLOWEEN
Looking for the most up-to-date info? Check out our Facebook event:
? A Spooky, Kooky Family Halloween ?
? 5 pm – 7:30 pm ? Shore Club, An Bang Beach
Get ready as we transform our cabanas into mini Haunted Houses for some epic Trick or Treat vibes for kids of all ages!
We'll be bobbing for apples, carving pumpkins and pulling out all the stops to make this an unforgettable Halloween for all the little ghouls and goblins that call Hoi An home.
Come experience our Haunted Family Halloween from 5-7:30 pm. Then, join us for a special dinner menu before your little princes and princesses magically turn to pumpkins!
ACTIVITIES include…
Trick or Treating
Bobbing for Apples
Pumpkin Decorating / Carving
Face Painting
Family Costume Contest
Live Music by Moon Chasers
MUSIC TO MOVE THE GHOUL INSIDE YOU…
New to the Danang music scene, we're thrilled to have a very special rendition of Clara Samuels and the Moon Chasers join us as a trio for our Haunted Halloween night!
Get ready to hear some sinfully soulful sounds as this epic voice and her band of ghastly ghosts give way to some booty shaking on the dance floor.
HUNGRY? THIRSTY?
We've pulled out all the stops for our Haunted Halloween with some special food items just for Halloween at only 70K/dish!
And, we'll have drink stations setup for you to satisfy your blood-thirtsy cravings with mocktails from 70K vnd, cocktails from 90K vnd and more!
Stay tuned for the full menu — coming soon!
ADVANCE BOOKING = FREE WELCOME DRINK
We're thrilled to announce that with every advance booking to reserve your space for our Haunted Halloween bash, you'll receive a complimentary welcome drink on arrival.
This time, our head barman has gone completely kooky and created something oh-so-spooky!
We call it 'The Bloody Eyeball'.  You can call it downright delicious!
HOW TO BOOK
Simply contact us on booking@shoreclubvietnam.com and we'll reserve your table and your complimentary welcome cocktails!
You can also book online or phone us on 090 589 2121 (English) or 070 460 9914 (Vietnamese) to make your reservation.
For more details and updated information, be sure to check out our Facebook event –   ? A Spooky, Kooky Family Halloween ?.
We'll see you on Halloween!