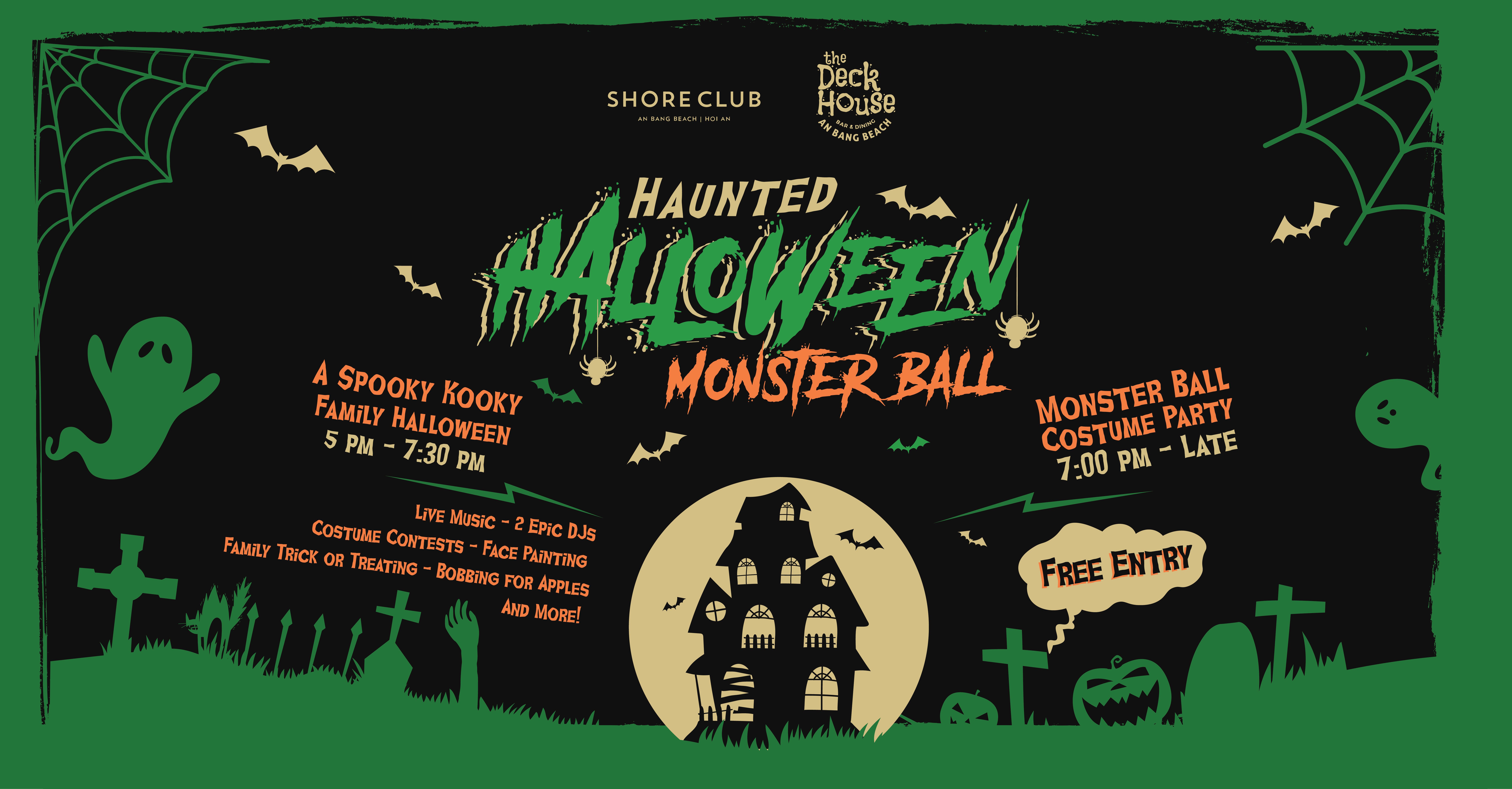 Haunted Halloween Monster Bash 2019
Halloween is something we take deadly serious at Shore Club!
We're calling all the ghosts, goblins, and gremlins of Hoi An and Danang to rise from the dead and take back the night on Thursday, 31 October. Join us from 4:30 pm for an afternoon of music and fun until late in the night as our dance floor turns into a graveyard full of ghastly ghouls!
FREE ENTRY + FAMILY-FRIENDLY
By now, you know how we do it at Shore Club! It's FREE to come party with us and we promise it's perfect fun for families and the wild ones among you. Our downright eerie evening kicks off with live music by Moon Chasers from 4:30 pm.
From 5 pm, our Haunted Hostess, Eliana, will kick things off with A Spooky, Kooky Family Halloween for the little ones and the young at heart! Kids of all ages are invited to Trick or Treat our Haunted Cabanas, bob for apples, decorate your own pumpkin and more! Want to all the details? Click here.
At 7:30 pm, the mood becomes downright dark…in a good way, of course! DJ G Nomad takes over the dance floor with the epic, party beats he's known for in Central Vietnam.
He'll get you up and dancing until DJ Bodhi Nam Nam takes over at 9 pm to bring us home until the last ghoul goes back to the graveyard!
ADVANCE BOOKING = FREE WELCOME DRINK
Just like at our epic Expat Appreciation Party, we're offering a free welcome drink with every advance booking!
Get ready to be greeted with our special Halloween shot — the 'Bloody Eyeball' — to help get the evening started off on the right foot. (Don't worry – we've got a virgin version if you're liver is in need of saving or if you're more than just young at heart!)
To make your booking, simply email us on booking@shoreclubvietnam.com. You can also book online or phone us on 090 589 2121 (English) or 070 460 9914 (Vietnamese) to make your reservation.
MUSIC TO MOVE YOUR SOUL-LESS CORPSES…
Rise from the dead and get yourself to the beach for another epic party in An Bang!
We've got the tunes to get you out of your seat and shakin' it on the dance floor.
If it's a gorgeous day at the beach, we'll be out enjoying the beauty of An Bang Beach as day turns to night and we party under the stars. Rainy day? No reason to be scared! The party moves to our indoor dance floor to keep all you ghouls and ghosts out of the wet weather. Ready for our Haunted Halloween music line-up?
Moon Chasers – 4:30 pm – 7:30 pm
DJ G Nomad – 7:30 pm – 9 pm
DJ Bodhi Nam Nam – 9 pm until Late
LET'S EAT, DRINK AND GET SCARY…
For this Haunted Halloween Monster Ball, we'll be serving up food from 4 different stations.  Most importantly, we've got something for everyone — meat, seafood, sushi, vegans and dessert lovers alike! And, each Halloween dish is only 70K vnd.
Our spooky, kooky bar team has crafted up some downright devilish cocktails from 90K vnd. More of a beer drinker? Locals beers from 40K vnd. Prefer something non-alcoholic? We've got juices from 60K vnd and mocktails from 70K vnd.
And, bring your own water bottle for FREE WATER REFILLS all night long!
Still hungry? Then, grab our a la carte menu and feed your empty, lifeless Halloween soul.
CHARITY RAFFLE & SILENT AUCTION
This Halloween, we've teamed up with The Hoi An Social Club to raise funds for two amazing local charities.
Presenting…Hearing & Beyond Vietnam and CHIA – Children's Hope in Action. Come early to get your bid on or purchase your raffle tickets! We've got prizes from some of Hoi An's top spas, restaurants, co-working spaces, yoga studios and more.
What do you want to win?
HALLOWEEN COSTUME CONTESTS
Throughout the night, we'll have 4 chances for you to win our seriously sweet Costume Contests.
During A Spooky, Kooky Family Halloween, we're looking for the Best Group or Team Costume! That's right, grab your better half, brother, sister or friend and put together a group Halloween costume that will wow our judges! We're talking Ketchup and Mustard, Salt and Pepper, Batman and Robin or even The Incredibles…but, we're sure you've got more creative ideas.
Then, we'll be giving out prizes for the Scariest, Funniest and Best Overall Halloween costumes! So, bring your A-game and get ready to win…
MC & RAPPER ENFLUENCE
Making sure this party is absolutely epic, we're thrilled to welcome back MC and Rapper Enfluence to host this Haunted Halloween Monster Ball. He'll be dropping some fresh, original beats as the evening goes on and helping keep you on the dance floor with his awesome energy, spooky spirit and downright disturbing charm.
Afterall, what's a party without our Hostess and Host with the Most, the epic Eliana and the incredible Enfluence!
JUST FOR FUN…
Get the finishes touches for your Halloween costume at Shore Club! We've got face painting by Aggie and Claire to add that extra scare to your Halloween look!
Want to dunk your head in some ice cold water? Go Bobbing for Apples!
Feeling kooky? Go ahead and put your hands inside our Spooky Ooky Feely Boxes and discover some human brains, intensines and more downright disgusting Halloween treats for Zombies!
BOOK NOW = FREE WELCOME DRINK!
Are you ready for another epic evening on An Bang Beach? This party promises to be seriously sweet! And, if you book in advance, we're serving up some signature Halloween welcome drinks just for you.
Email us on booking@shoreclubvietnam.com. You can also book online or phone us on 090 589 2121 (English) or 070 460 9914 (Vietnamese) to make your reservation.