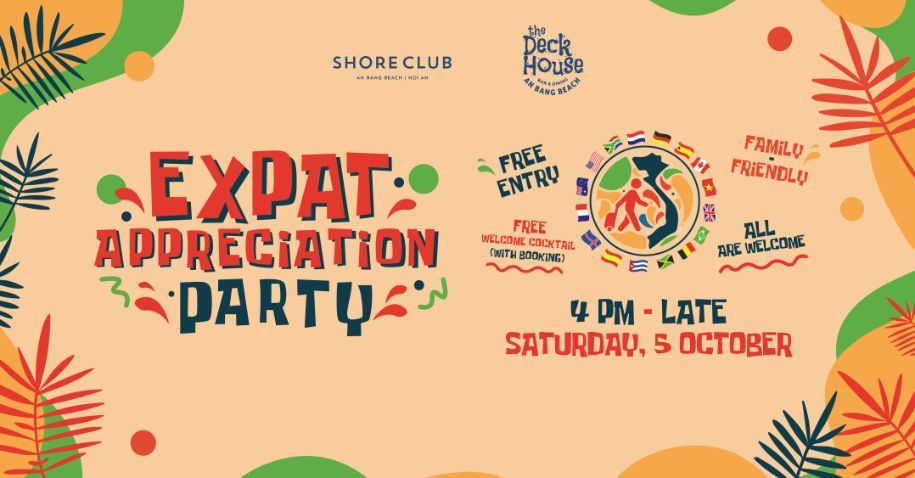 Expat Appreciation Party
It's time for the first-ever Expat Appreciation Party at Shore Club! It's a chance to share our appreciation for the community of expats living and working here in Hoi An and around Vietnam.
We are so very happy that you have chosen to make Central Vietnam your home and are truly grateful for all that you bring to the community as we grow, develop and advance.
Let's Celebrate – Saturday, 5 October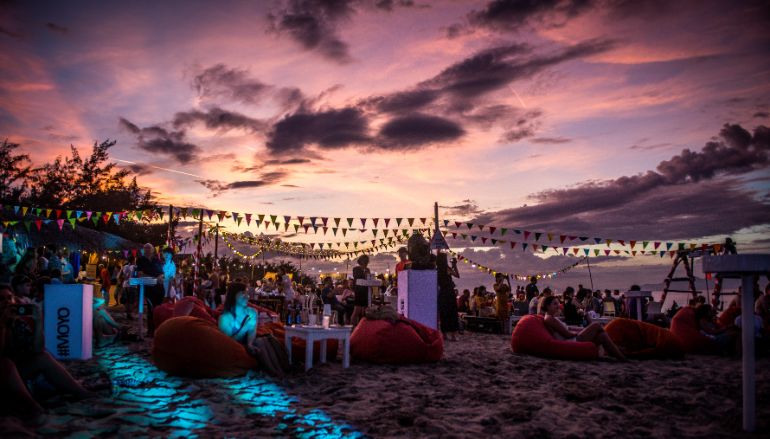 To celebrate, we're having a party just for you, our expat friends and families in Hoi An, Da Nang and around Central Vietnam! The last time we had a party on An Bang Beach, it was pretty epic. Were you there? This time, you won't want to miss out.
EXPAT APPRECIATION PARTY
SATURDAY, 5 OCTOBER
4 PM – LATE
Get ready…we've got quite the night planned! Here are some of the highlights for our upcoming Expat Appreciation Party!
Highlights
FREE ENTRY + ALWAYS FAMILY-FRIENDLY
This party is absolutely free! It won't cost you a thing to come check out what's going down at our Expat Appreciation Party. And, of course, we want you to bring the kids! At Shore Club, families are always welcome to come spend the day with us. From lounging by the pool to playing games on the sand, kids love Shore Club and parents do, too!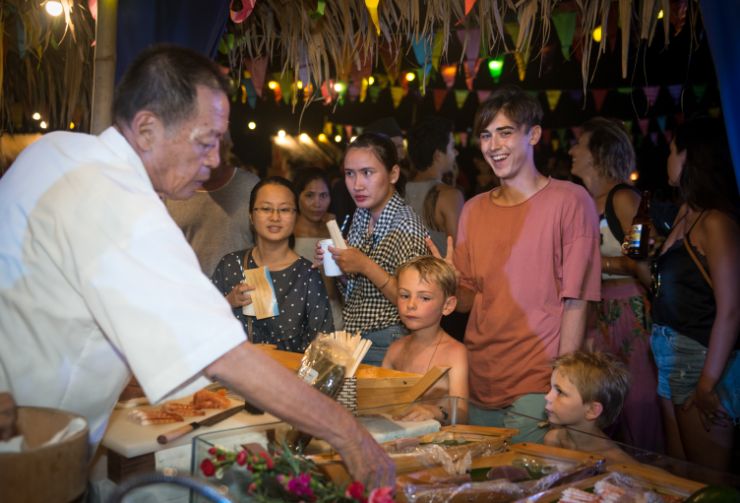 ALL ARE WELCOME TO COME CELEBRATE WITH US
Locals and expats alike are invited to come get down and have some fun with us this very special Saturday!
If you're an expat, be sure to bring your Vietnamese friends to share in the fun. If you're a local, gather up your expat pals and come share in the love for our growing community.
FREE Welcome Cocktail with Advance Booking
Thirsty? Don't worry, our seriously sweet bar team has got you covered all night long. And, if you make an advance booking — your first cocktail is on us! That's right…just make a reservation and we'll greet you with a sensational welcome cocktail after arrival.
How to book? Simply contact us on booking@shoreclubvietnam.com and we'll reserve your table and your complimentary welcome cocktails! You can also book online or phone us on 090 589 2121 (English) or 070 460 9914 (Vietnamese) to make your reservation.
FREE Wine Tasting
Our friends at Celliars d'Asie will be joining us to show their love, support and gratitude for the expats of Hoi An and Danang at our Expat Appreciation Party, too! Are you ready to taste some of their premium international wines? Today is your chance….

Let's Eat & Drink
At Shore Club, we're known for bringing you awesome local and international cuisine that meets top standards around the world. And, our parties are no different — except we slash the prices so it's a win-win for everyone! Come out and enjoy…
Food stalls from only 50k vnd / dish (Western, Vietnamese & Veg/Vegan Stations)
Local beers for only 30k
Juices and mocktails for 40k
Cocktails for only 60k
Wines for only 90k
FREE wine tasting hosted by our friends at Celliars d'Asie
Ready to Get Funky? Ready to Get Down?
Music Moves the Soul…
Soul Acoustic
The smooth, sultry sounds of Vallen on vocals and Deo on guitar can set your soul to soar. If you've never heard this dynamic duo rock it along An Bang Beach at one of the many popular places they play, you're missing out! And, tonight might just be one of their best nights ever…
SunnySide Band
Let's crank up the volume as lead vocalist, Maria, and her 5-man band set the stage for a seriously rockin' good time! A favorite among staff and guests, SunnySide Band are regulars at our spot on An Bang Beach. Are you ready to get up to get down….?
DJ Bodhi Nam Nam
Where my party people at? The epic DJ Bodhi Nam Nam is taking us from just after 8 until late, late, late!
Get ready as this night picks up in intensity and the beats get sicker and sicker. Hailing from Europe with Vietnamese roots, DJ Bodhi Nam Nam has played top local and international parties and festivals around the world. Don't miss your chance to see him showcase his skills this Saturday at Shore Club.

Come Together, Right Now
Need a few more reasons to get out of your house? How about we sum it up for you with one word: community. At Shore Club, we believe that community is at the heart of everything we do. Like the Beatles' said way back when, it's time to come together and we can't think of a better time than now!

Expat Business Showcase
Discover local businesses by fellow expats at our Expat Business Showcase featuring…
Have a business you'd like to share? Send us an email and let's chat!
Go Green for a Better Tomorrow
We're committed to making a difference in our efforts to keep An Bang Beach and Quang Nam province clean, green and looking great!
All products used will be biodegradable as we work to do our small part in saying no to single-use plastic and extra trash!
And, we won't be selling bottled water this evening!
We will be serving filtered jugs of water for guests and FREE WATER REFILLS when you bring your own bottle!
Giving Back to the Community
Join us and make a contribution to our selected charity…
-Buy a raffle ticket for our Lucky Draw
-Bid on prizes in our Silent Auction
NB: Stay tuned…more details coming soon!
Grab the kids, your Vietnamese family and friends and tell your neighbors…this is going to be one party you don't want to miss!
Advance Bookings Encouraged
Reserve your table or private space and we'll set aside your complimentary welcome cocktails! That's right…FREE WELCOME COCKTAIL for guests who book in advance.
Contact us on booking@shoreclubvietnam.com or 090 589 2121 (English) or 070 460 9914 (Vietnamese) to make your reservation.