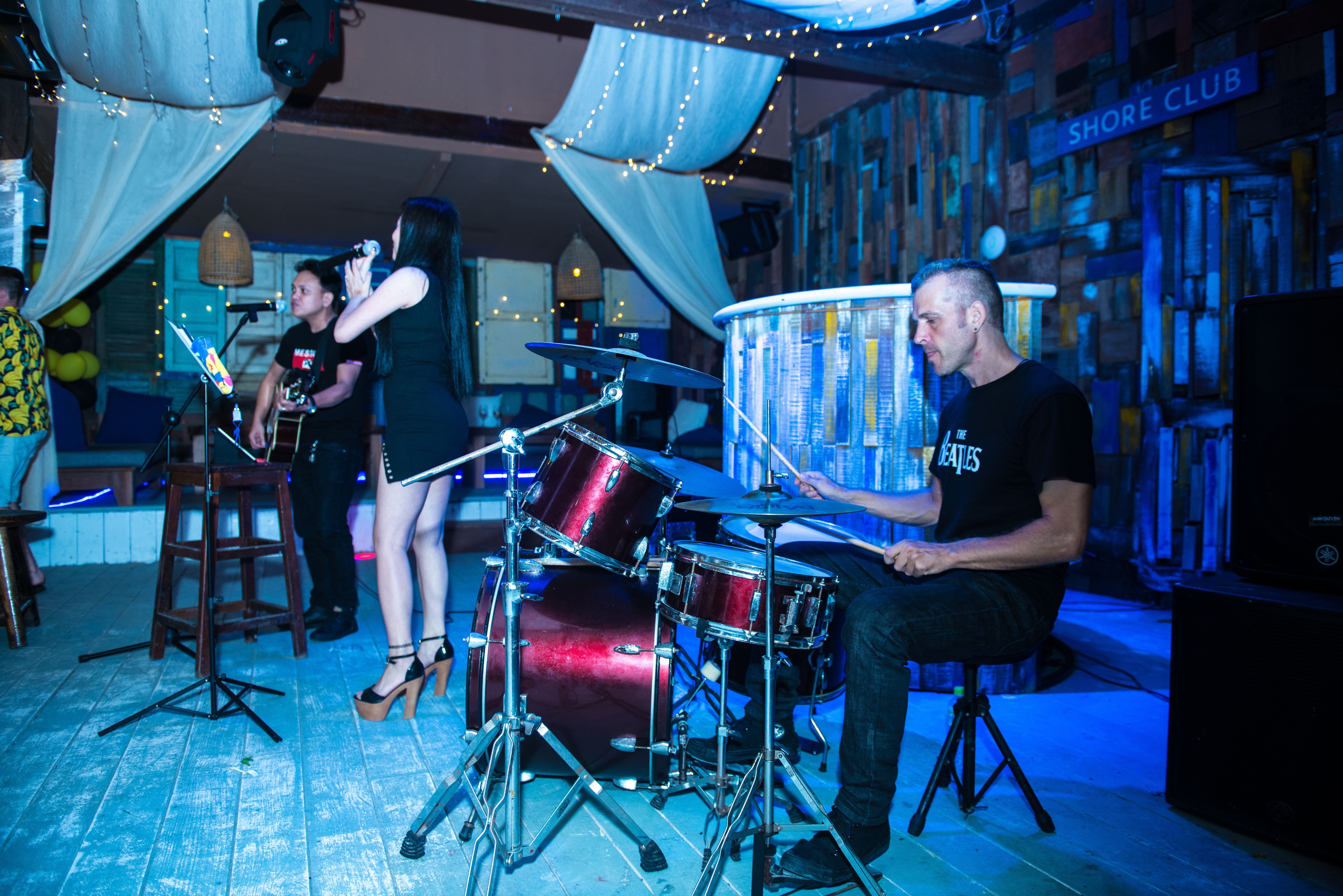 May's Live Music Line-Up
If you're on An Bang Beach this May, there's only place to be for comfortable, welcoming afternoons turned evenings.
We invite you to spend the day soaking up the sunshine on our beautiful private stretch of sand or hanging poolside in our private cabanas or splashing around with your little ones.
Feeling like some pampering? Head over to our on-site spa for a body treatment, massage or a peaceful, relaxing pedicure by the sea.
Find yourself drawn deeper into our private oasis as the evening unfolds and you're suddenly sipping on one of our sensational cocktails as the sun sets over the Son Tra Peninsula and our live music begins.
What's better than live music at the beach?
Spending your day turned evening listening to live music at Shore Club! (It's pretty hard to disagree…right?)
In May, Shore Club is bringing you top local and international artists direct to An Bang Beach. From solos to saxophones, tribute bands and trios to treat we have a little bit of everything all rolled into one music lineup, just for you.

Wednesdays
Rock n' Roll & Sax Solos
5:30 to 8:30 p.m.
Are you ready to rock, An Bang Beach? Get ready to jam with visiting solo artist Clive Pendock intermingled with the international stylings of local saxophone artist, Hiển.
Sit back relax and sip on some sangria or indulge in one of our incredible specialty platters while listening to some chilled out, sweet sounds of live music on An Bang Beach.

Fridays
Pure Honey
5:30 to 8:30 p.m.
Fridays at Shore Club are downright sinful! Sit back, relax and indulge your ears in the sounds of Pure Honey.
This dynamic duo compromised of Irish-born singer-songwriter & guitarist, Paul Sheehy, and local An Bang Beach resident and saxophone star, Hiển, are ready to take you on a journey of super sonic proportions as they play together, experiment with each other and have a whole lot of fun on Fridays.

Sundays
Big Band Sounds
Aren't Sundays simply grand?
The perfect day to spend soaking up the sunshine and sipping on a Pina Colada or our signature Vegetable Medley (it's a cucumber-inspired gin and tonic — so good!)  And, the perfect day to turn up the volume and show An Bang Beach the Shore Club sound system.
Join us from 3 pm every Sunday for some seriously big sounds with Halcyon Dayz or Soul Candy bringing the chilled vibes and epic sounds.

Halcyon Dayz
Sunday, 5 May  –  3 pm to 6 pm
Halcyon Dayz, a 60s and 70s tribute band, is a true guest favorite as their high-energy, dynamic sound and 'feel good' nostalgia while get you out of your seat and jumping around!
The regular Saturday night band at The DeckHouse, it's a true treat to spend our Sunday afternoon with their hot, rock n' roll sounds.

Soul Candy
Sunday, 12 May & Sunday, 26 May  –  3 pm to 6 pm
Soul Candy has a sound like no other that truly excites and warms you…from your Soul! Listen to their soulful, vibrant and electrifying sounds from the safety and comfort of our Beachside Lounges or get out of your seat and see what's shaking on the dance floor as this band knows how to shake it and so should you!
Thursdays & Saturdays
What's happening with live music on An Bang Beach the rest of the week?
On Thursday and Saturday nights, check out The DeckHouse and their awesome entertainment lineup here.
That way, you can swing by for a cocktail before or after and say hello! 😉
Bookings Encouraged
Bookings are strongly encouraged as space can fill up quickly.
To reserve your private cabana, beachside lounger or dinner table, contact us by phone on 070 460 4861 (English) or
070 460 9914 (Vietnamese).
You are also invited to book online directly or via email. Please be sure to note your special requests and / or desired area of Shore Club so we can confirm availability for you. We look forward to welcoming you.
See you at Shore!