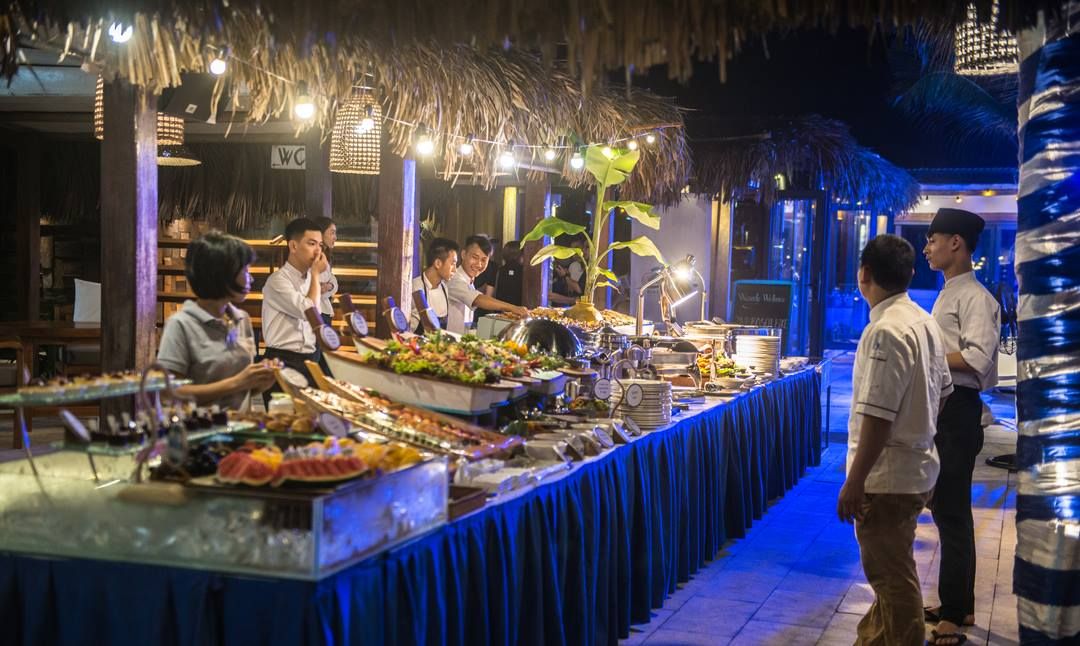 One More Saturday, One More Beach BBQ Buffet
Don't miss out on April's last beachfront BBQ buffet this Saturday at Shore Club!
It's April on An Bang Beach and the weather is hot-hot-hot. And, so is our signature beachfront buffet!  Along with all the other action inside Shore Club, there's no other place to be this Saturday.
Your Home Away from Home
With live music regularly and a welcoming, family-friendly vibe, we strive to be your home away from home on An Bang Beach. Situated on our private stretch of sand at the far left end, we're the perfect escape from the hustle and bustle of tourists clamoring to get some sand and cheap beers. Skip that…
Escape the insanity and make your way home to Shore Club and our signature buffet instead.
Day Turns to Night at Shore Club
Spend the afternoon relaxing on the sand or lounging in our gorgeous infinity pool with sweeping views of the sea and Cham Island.  Or, pamper yourself with a visit to our on-site, full service spa, Luna Beach Spa. Looking for a little more action? Check out our water sports on offer directly from Shore Club.
And, as the day turns to night, there's no need to go anywhere.
Signature Chill Bill BBQ Buffet
Settle in for our signature meat and seafood buffet! With something for everyone, chef and his team have worked tirelessly to put together a gourmet buffet that surprises and delights our guests.
Come see for yourself why Shore Club's signature buffet puts all the rest to shame.
Tunes Alert: Halcyon Dayz to DJ Dark
Need another reason? How about the smooth, inviting sounds of Halcyon Dayz as they take us back to the beach days of the 60s and 70s. With epic sounds reminiscent of years gone by, this incredible cover band is of our favorites and will surely be yours, too!
Our Shore Club signature buffet starts from 6:30 pm and goes until 9:30 pm.  Live music by Halcyon Dayz begins from 4:30 pm until 7:30 pm, followed by our resident DJ Dark heating up the dance floor from 8 pm until late.
Bookings are strongly encouraged; to reserve your table, click here.