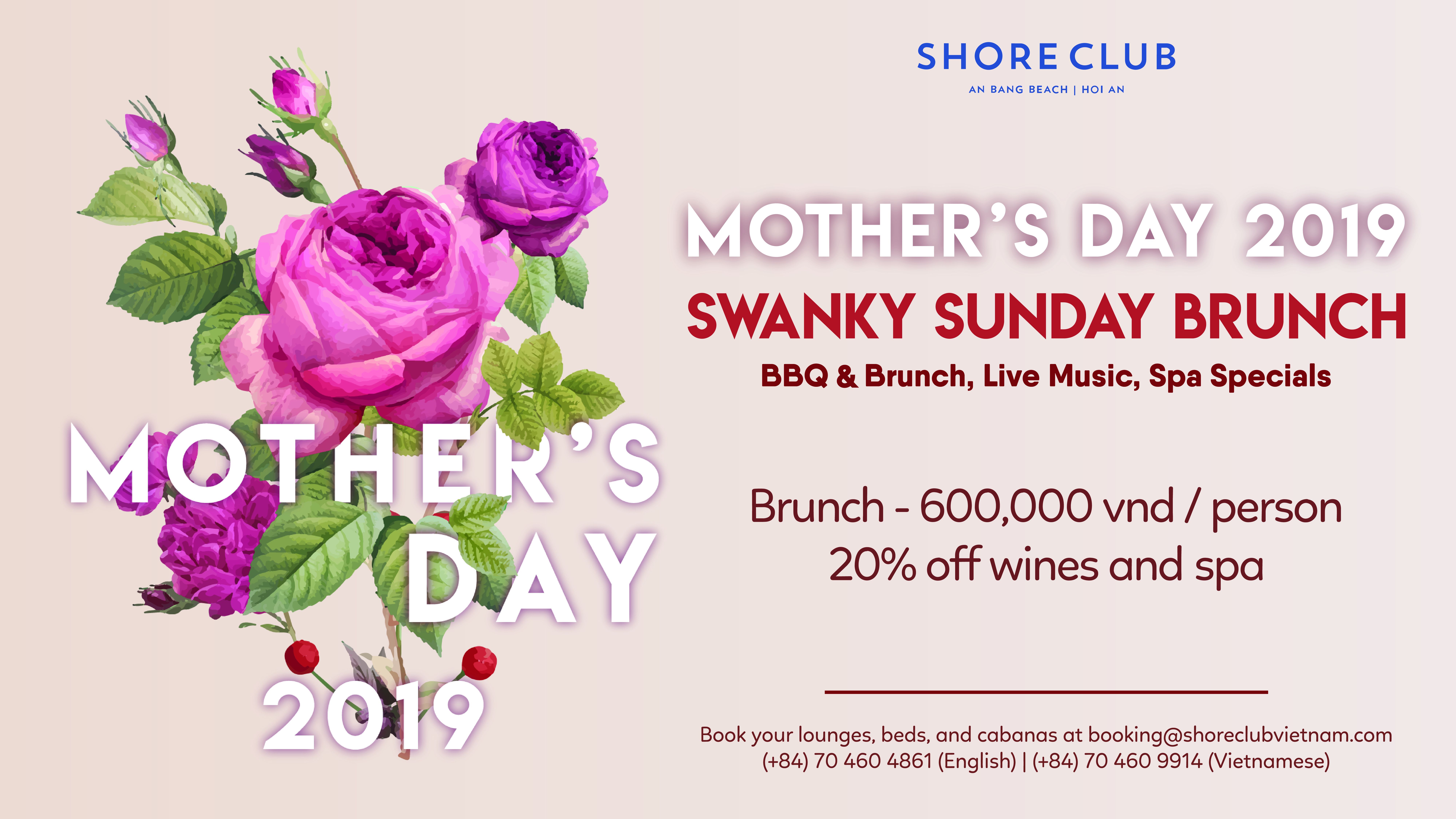 Mother's Day 2019 at Shore Club
Mother's Day is right around the corner!
Make this year's Mother's Day magical on An Bang Beach with our very special Swanky Sunday Brunch at Shore Club.
Your home away from home on holidays, Shore Club is the perfect place to spend your special day with your Mom, Mother or Mum! Escape the hustle and bustle of the Old Town Hoi An this Mother's Day and treat yourself (and your Mom!) to a day of pampering and indulgence on the beach.
Home Away from Home
A true beachside oasis, our secluded beachfront destination is designed as a playground for kids and adults alike. At Shore Club, we strive to offer something for everyone this Mother's Day.

Indulge in our epic Seafood and Meat BBQ buffet and sip on champagne from our premium collection of international wines, all exclusively 20% off for Mother's Day.
Let the kids splash around in our stunning infinity pool overlooking the ocean. Keen to keep a close eye on them? Be sure to reserve one of our luxurious cabanas around the pool.
Just for Mother's Day, we've invited in the soulful, comforting and easy-to-listen sounds of Soul Candy, a true guest favorite at Shore Club and around An Bang Beach!
And, as our way of saying thank you to all the Mothers (present and future), we're offering a sensational 20% off discount on any spa treatments on Mother's Day.
Mother's Day Activity Review
Swanky Sunday Brunch, 11 am – 3 pm
Soul Candy performing live, 11:30 am – 2:30 pm
20% off all wines and bubbles
20% off all spa treatments
A gorgeous, bright sunshine filled day at the beach
Outstanding service to make you feel like you're home
Can you think of another place worth spending Mother's Day?
Some stuffy old hotel brunch?
No, thank you.
In Old Town with the heat pounding down?
Pass.
The Destination to Treat Your Mom
Truly, there's no better destination to truly treat yourself…and your Mother…this holiday!
Come spend Mother's Day at Shore Club.
Bookings Encouraged
Bookings are strongly encouraged as space can fill up quickly.
To reserve your private cabana, beachside lounger or dinner table, contact us by phone on 070 460 4861 (English) or
070 460 9914 (Vietnamese).
You are also invited to book online directly or via email. Please be sure to note your special requests and / or desired area of Shore Club so we can confirm availability for you. We look forward to welcoming you.
See you at Shore!
What's on the Menu?
See for yourself…our Chef has put together a spectacular Sunday Brunch!
We look forward to welcoming you.