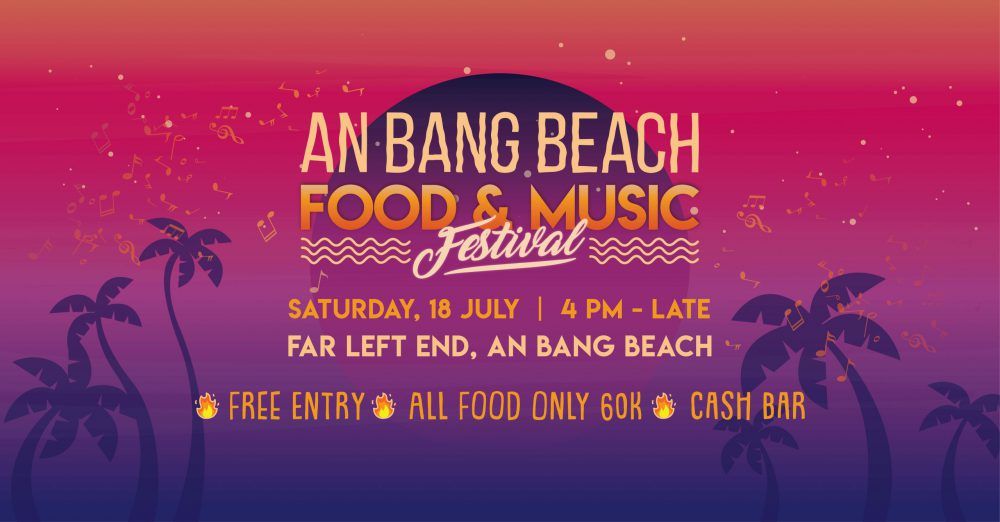 An Bang Beach Food & Music Festival 2020
Lễ Hội Ẩm Thực & Âm Nhạc Bãi Biển
It's time for the second annual An Bang Beach Food & Music Festival and we couldn't be more excited!
Last year, more than 400 guests came together to taste some of the best cuisine Central Vietnam — and Hoi An, specifically — had to offer. This year, we're bringing together 16 different restaurants to showcase their skills and wow Festival guests from around Vietnam, and the world.
2020 AN BANG BEACH FOOD & MUSIC FESTIVAL
With the simple goal of bringing people together to taste the wide range of eclectic, international and diverse cuisine on offer for both local and international visitors to our beautiful beach town and historic ancient city of Hoi An, Vietnam.
This July, there's no better place in Vietnam to be than the beautiful stretch of sand known as An Bang Beach. Consistently ranked one of the top 100 beaches in the world by CNN and recipient of countless travel accolades, we are delighted to play host to this exciting event.
Until only a few years ago, An Bang was a quiet fishing village with little, if any, international cuisine. But, all that was soon to change.
As visitors to Hoi An's Old Town, a UNESCO World Heritage site, started discovering the pristine white sand beaches and calm, relaxing waters not far from this ancient town, things were destined for a change. Only a few kilometers to the East from the quaint streets and trading ports, An Bang Beach is the perfect escape from the hustle and bustle and the best place to spend a hot summer's day.
Within only a short amount of time, the local An Bang community has welcomed international cuisine including Mexican, Spanish, German, Lebanese, French, Italian, Greek and even Vegan — all while maintaining a good amount of local seafood spots to retain that quaint beach village feeling.
This July, several of Central Vietnam's most delicious restaurants step away from their kitchens to showcase their talent and skill at the second annual An Bang Beach Food & Music Festival. Are you ready?
2020 Participating Restaurants
Basket Boat Cafe
Bungalow Beach Bar
Butter Oven
Eat Thai
Empanada Mama
Hồng Hạnh – An Bang Beach
Liv Bakes
Mins Sushi & BBQ Bar
Moyo Cafe & Pub
Nuts – Hạt Hội An
Peanuts
Rainforest Cafe
Reginae Kitchen
Shore Club
Soul Kitchen
The DeckHouse
The Hill Station
The Kneipe
Tuấn – Organic Herb Garden Family- Tra Quế Village
Voi's Kitchen & Bar
Xoai Macrobiotic Cafe

HOW IT WORKS: AN BANG BEACH FOOD & MUSIC FESTIVAL
Free Entry, All Are Welcome
Entry to the 2020 An Bang Beach Food & Music Festival is completely FREE.
All guests are welcome to join us for an evening of delicious food, drink and fun for the whole family at this year's Food & Music Festival.
Time to Eat
All food dishes are served tapas style for only 60K / dish. Upon arrival, stop by the Ticket Booth and purchase your Food Coupons for use at any of the participating restaurants.
Sample both local and international cuisine from some of An Bang's top restaurants including delicious seafood, xxx, xxx and the best vegetarian and vegan food by the beach!
With 16 unique restaurants each serving up 2 or 3 of their signature dishes, there is sure to be something for everyone.
Get your Drink On!
There is a cash bar serving selected craft beers and a wide range of local and international beers & wines, top notch mixed drinks and seriously sensational cocktails. Of course, we'll have plenty of juices, soft drinks, water and non-alcoholic beverages, too.
Activities
Fun for the whole family, we've organized activities for the kids (and those young at heart) like face painting, bean bag toss and some traditional Vietnamese performances to enjoy.
For the adults, get ready for live music, guest DJ Jarod Escaped, hip hop dance performances, fire dancers, beer pong and more!
MARK YOUR CALENDAR NOW…
Saturday, 18 July is going to be one evening out in An Bang Beach you don't want to miss!
Remember, the festivities kick off from 4 pm at the very far left end of An Bang Beach.
Looking for an oasis from the beach party? We've got you covered. Shore Club will be open during the Festival and has plenty of reserved seating for you and your family or friends.
Book your private cabana or beachside lounge today and experience the fun from a different vantage point.