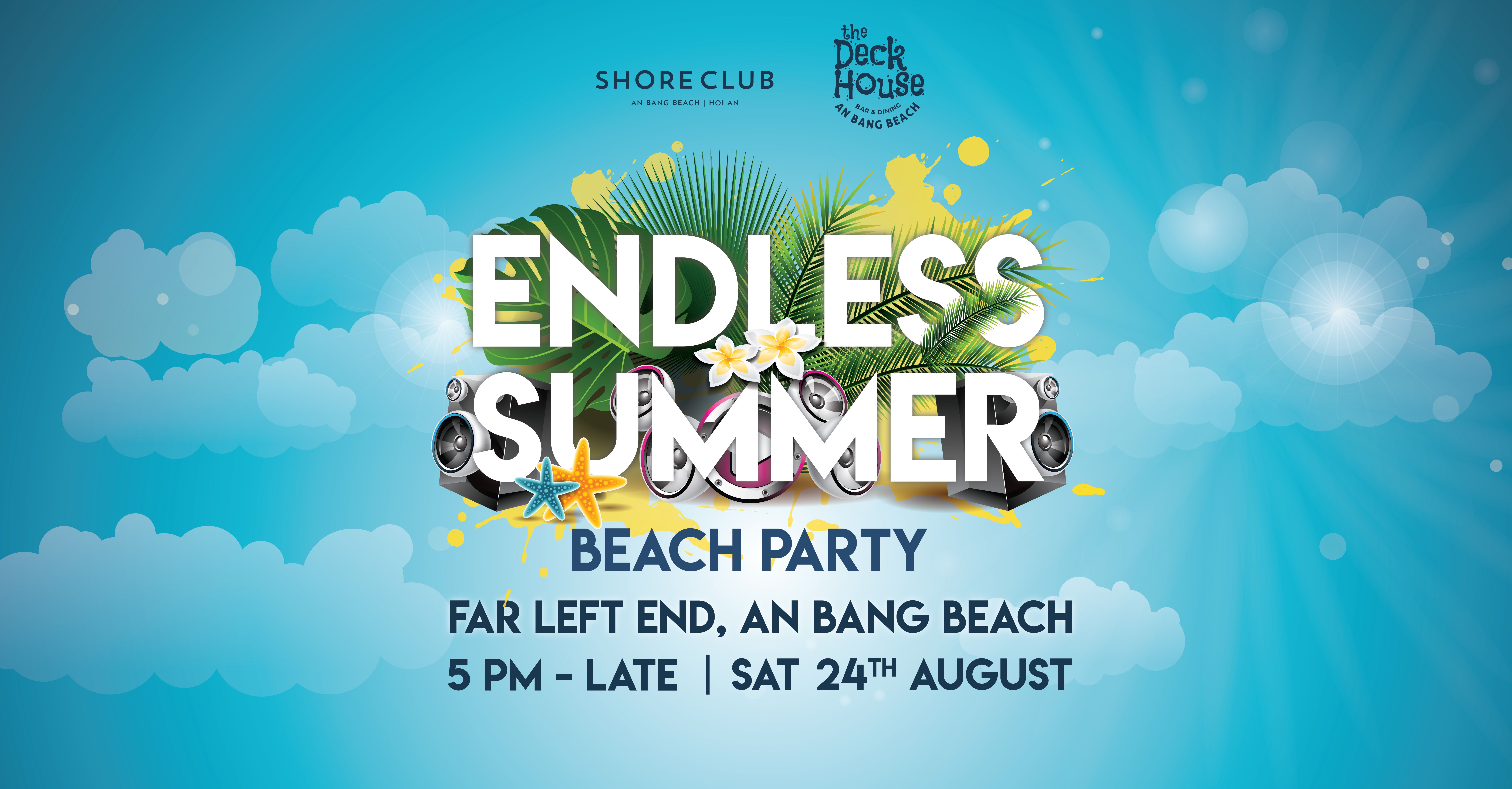 Endless Summer Beach Party
Summer never ends on An Bang Beach… ??
Come celebrate our Endless Summer in Central Vietnam as we team up with The DeckHouse and Sampan Rhum to put on another epic party on An Bang Beach!
??
Saturday, 24 August
Far Left End, An Bang Beach  /  5 pm – Late
??
WE LIKE, WE LIKE TO PARTY…
Did you see our last event?
Check out the first-ever An Bang Beach Food & Music Festival on YouTube!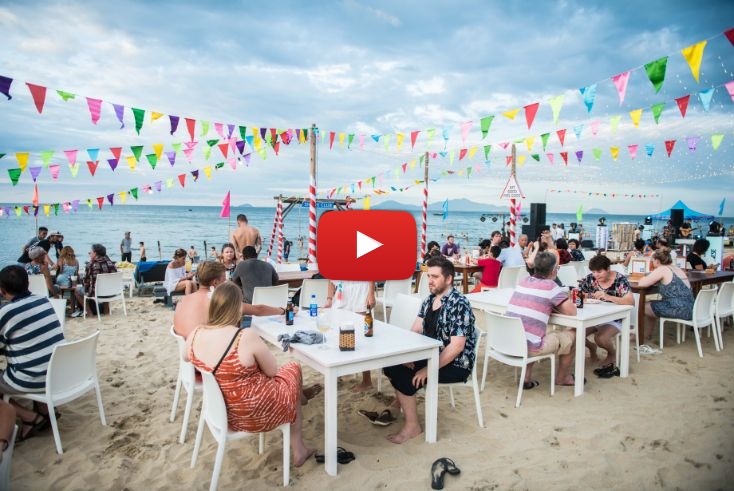 Just last month, more than 600 people came out to support local restaurants, musicians and artists for an evening of fun for all ages under the beautiful night sky on An Bang Beach.
Get ready…this is going to be one helluva beach party!

…
SENSATIONAL SOUNDS
Get ready for some epic tunes from local and international DJs and bands, cuisine from around the world and a party to last well into the night.
Starting the evening off right we've got Central Vietnam sensation, DJ G Nomad, with Fernando on sax! As the sun sets, shake your groove thang on our dance floor in the sand.
…
When day turns to night, we crank up the tunes with 70s and 80s tribute band, Halcyon Dayz, followed by the soulful, smooth sounds of Acoustic Soul.
Finally, get ready for DJ Dark and his crew of hip hop dancers to take over from 9 pm! Taking us late into the night, we've got Dark spinning the best music on An Bang Beach plus a hip hop dance off, fire show, beer pong and more.
LOCAL ROCKS!
We're celebrating everything local with our Endless Summer Beach Party.
Are you ready to savor the flavors of Central Vietnam?

SAMPAN RHUM
We're so excited to be joined by Sampan Rhum for this very special evening on An Bang Beach! Step over to their stand and receive an introduction to this terrific, locally made rhum we know you'll simply love. (We sure do.)
At the Sampan Rhum Tasting Station, you'll be able to sample each of their 3 premium  proof spirits and indulge in a selection of sensational Sampam cocktails.
…
…
AN BANG BEACH ICED TEA
An original recipe from the Fisherman of An Bang Beach village that is truly delightful. It's an infused tea sure to hydrate and refresh anyone looking for something non-alcoholic and a true taste of this little fishing village.
…

CENTRAL VIETNAMESE CUISINE
This time, we're focused on foods from right here in Central Vietnam — and, even, unique to An Bang Beach. (Don't worry, we still have stations sure to please all guests but we do hope you'll try some authentic Vietnamese flavors and cuisine while at our beach party.)
Want to see the menu? Here's a sneak peek:
Grilled beef in lolot leaves
Sugar cane shrimp and pork with "bánh hỏi", a special Vietnamese rice cake
Chicken Mi Quang noodle
'banh beo, banh nam' in Hoi An
Grilled Octopus
…
…
…
EATING
Local and Internatioanl Food Stations
This month, our food will focus on showcasing both the outstanding local An Bang Beach and authentic Vietnamese cuisine. Our team of chefs have prepared a menu sure to surprise and delight…
Prefer to indulge in something different? We are still featuring awesome food and different tastes from around the world.
Wraps & Ribs
Vegan & Vegetarian
Sushi & Seafood
Vietnamese & Local An Bang Beach Cuisine
Desserts
…
DRINKING
5 Drink Stations
We are thrilled to bring you 5 drink stations this time around to keep you hydrated!
Sampan Rhum Tasting & Cocktails
Draught & Craft Beers
Cocktails, Mocktails, Juices and Mixed Drinks
Local Beer, Wine and Soft Drinks
FREE WATER REFILLING STATION…BRING YOUR BOTTLE!!
Get ready to get down as we light An Bang Beach on fire with live music and DJs from dusk to very, very dark. 😉

FAMILIES ALWAYS WELCOME…
We'll have face painting, a bean bag toss, water guns and more for the kids!
Also, we'll have a selection of mocktails, fresh, healthy juices and smoothies.
Above all, we'll have our team waiting, ready and eager to welcome you and make you feel right at home.
…
BEACH PARTY TIME

Aroo-ga! When the sun goes down, it's time to shake your groove thang on the dance floor!
Want to hear the line-up for our Endless Summer?
We think it'll be music to your ears!
---
MUSICAL ACTS
DJ G Nomad featuring Fernando on sax
Halcyon Dayz
Soul Acoustic
DJ Dark
---
ACTIVITIES
Face Painting
Fire Show
Hip hop dance off
Premium Local Rhum Tasting
Bean Bag Toss
Hula Hoops, Water Guns and more!
SAVE THE DATE
It's going to be another not-to-be-missed kind of night on An Bang Beach! Are you ready?
To reserve your private space at the party or just steps from the action, inside one of our VIP Cabanas or Beachfront Loungers, contact us.